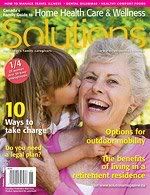 Solutions Magazine has published an article by author Lynne Butler of Protect Your Elderly Parents, entitled Planning ahead makes all the difference.
Butler outlines the powers of a guardian/trustee and talks about the various options you have, if a loved one can no longer take care of themselves in a legal capacity.
For more information visit Solutions Magazine or visit Butler's blog Estate Law Canada.